S.T.E.M. At Work!
Our students started using the engineering process this week by brainstorming and planning with their groups before creating their products!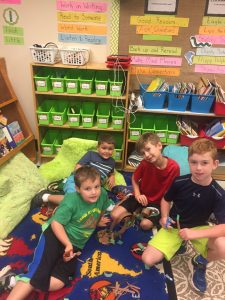 Reminders:
Family Journals-PLEASE read your child's entry every week and respond in PRINT. Thank you!!
Please check the back of your child's folder every day for any Wow! and Oops! card information.
Landform Pictures: We are starting our unit on Landforms in Social Studies this week. Please send in a picture(s) you may have related to landforms: mountains, the coast, plains, plateaus, valleys,
What We Are Learning This Week:
Math-We will be continuing to work on our number sense from 1-120, as well as learning place value and decomposing numbers into tens and ones.
Reading– We will continue to work on our decoding and fluency strategies for reading, as well as selecting "just right" books. I will be wrapping up assessments this week.
Phonics-We will be learning words with the l-blend. I will send these words home on Orange paper Monday for you to review at home with your child. Your child can work on reading and spelling these words throughout the week. We will play a fun spelling game on Friday.
Writing-We will start writing narratives this week following this process: Think of an idea, Plan, Touch and Tell, Sketch, then Write.
Social Studies-We will start learning about landforms this week. As I mentioned, please send in a picture that you may have involving a landform such as a mountain, valley, plateau, coastal area and/or plain.
S.T.E.M.- Students had a great time with their S.T.E.M. challenge of the week-to work with their groups to create the longest paper chain. They had limited resources to do so. We evaluated the products and we make improvements next week. They were great collaborators and creative thinkers!